Model NO.: 2-148

Wall and Roof Sandwich Panel: EPS, Rock Wool, Glass Wool, PU

Design and Quote: Do Design and Quotation to Your Require or Your Dr

Quality Control: The Third Party, SGS, Asia Inspection All Accept

Design Parameter: Wind Load, Snow Load and Earthquake

Software Used: Autocad, Pkpm, Mts, 3D3s, Tarch, Xsteel V12..Tc

Trademark: HX

Transport Package: Using Container of 20 Feet and 40 Feet

Origin: China

HS Code: 7308900000

Model NO.: 2-148

Wall and Roof Sandwich Panel: EPS, Rock Wool, Glass Wool, PU

Design and Quote: Do Design and Quotation to Your Require or Your Dr

Quality Control: The Third Party, SGS, Asia Inspection All Accept

Design Parameter: Wind Load, Snow Load and Earthquake

Software Used: Autocad, Pkpm, Mts, 3D3s, Tarch, Xsteel V12..Tc

Trademark: HX

Transport Package: Using Container of 20 Feet and 40 Feet

Origin: China

HS Code: 7308900000

Company advantage: 1. We supply for Hyundai, SEPCOIII, Siemens etc. Exported to more than 60 countries, with more than 200, 000 tons.2. Biggest steel structure manufacturer in northern China, annual output 200, 000 tons.Registered capital: USD 16million120 engineers and 1260 staff in total.3. ISO9000, ISO14000, ISO18000American certificate system of CWI, AWS welderEuropean certificate system of EN-1090, EN welder4. Our group is Canada listed company, total asset 4 billion, 3600 employees.

 
Performance is a hard truth
SN
Project Name 
Tons or Area
1
Steel structure for India JHARSUGUDA 9*135MW Power Plant
25,000Â tons
2
First-stage project of India JHARSUGUDA 6*600MW Power Plant
24,000Â tons
3
Steel structure for India BALCO 4*300MW Coal-firing Power Station
16,000Â tons
4
Major workshop& ECR of 3*660MW, CLP Power Station, India
5500Â tons
5
Steel structure for Nigeria Power Station Project
4000 tons 
6
Steel structure for  Vietnam  2*30MW Power Station Workshop
2100 tons 
7
Steel structure for  Indonesia  TANJUNGENIM 3*12MW Power Plant
1200Â tons
8
India WPCL4*135 Coal-firing Power Station
3000tons 
9
Luli Group steel Making Workshop
11500Â tons
10
Shoudu Iron and Steel company project, 2006
4100Â tons
11
Steel Structure of Qingdao Laigang  Mansion , 33 floors, Heavy H Beam and Tubular Pillar
3600tons 
12
South Korean Hyundai Steel Project
2950 tons 
13
Steel Structure for Saudi Arabia HCP2*10000T/D cement plant
1600Â tons
14
Philippines  Ship Company Main Workshop
3600Â tons
15
Workshop of Deruibao Tires Company, project area
112,000SQM
16
1-5# Workshop of Huaxing Industrial Park, 2010, project area 
86,000SQM
1. warehouse kits ( made of steel frame )Â main components :
SIZE(m)
LENGTHÂ *Â WIDTHÂ * EAVE HEIGHT
 
TYPE
SINGLE SPANÂ , DOUBLE SPANÂ , MULTIÂ -Â SPAN
ONE FLOORÂ , TWO FLOORSÂ , THREE FLOORS
BUILDING FOUNDATION
STEEL FOUNDATION WITH ANCHOR BOLTS
COLUMN & BEAM
MATERIAÂ LÂ :Q235B & Q345B
BRACING
X or V TYPE BRACING MADE BY ANGEL STEEL , ROUND Bar etc 
Wall & Roof C or Z PURLINE
SIZE :C120 ~ C320mm ; Z100 ~ Z300mm
 
WALL & ROOF PANEL
SINGLE CORRUGATED STEEL SHEET
SANDWICH PANEL INSULATION WITH EPSÂ , PUÂ , ROCK WOOL etc
WINDOW & DOOR
PVC or ALUMINIUM ALLOY WINDOW
ELECTRIC ROOLÂ -Â UP DOOR
SLIDING DOOR BY SANDWICH PANEL OR SINGLE CORRUGATED STEEL SHEET
SURFACE TREATMENT
HOT GALVANIZED COATING COLD GALVANIZING
Spray - Painting , Any color , or according to your request
 
 
ACCESSIORES
SEMIÂ -Â TRANSPARENT SKYLIGHT BELTS
VENTILATORSÂ ;Â DOWN PIPEÂ ;Â GUTTER
STANDARD BOLTS
2. Why choose us:

1) Workshop covers an area of 200, 000 square meters;

2) Owning 10 professional production lines, annual output reaches 150, 000tons for all kinds of warehouse kits ( made of steel frame )

3) More than 80 senior & middle rank engineers; .

4) Products pass the approval of ISO9001, CE, ASME, CWI, SGS, BV etc;

5) Products have already exported to Philippines, Malaysia, Australia, the United States, Chile, the United Arab Emirates, Saudi Arabia, Russia, Niger etc more than 60 countries and regions.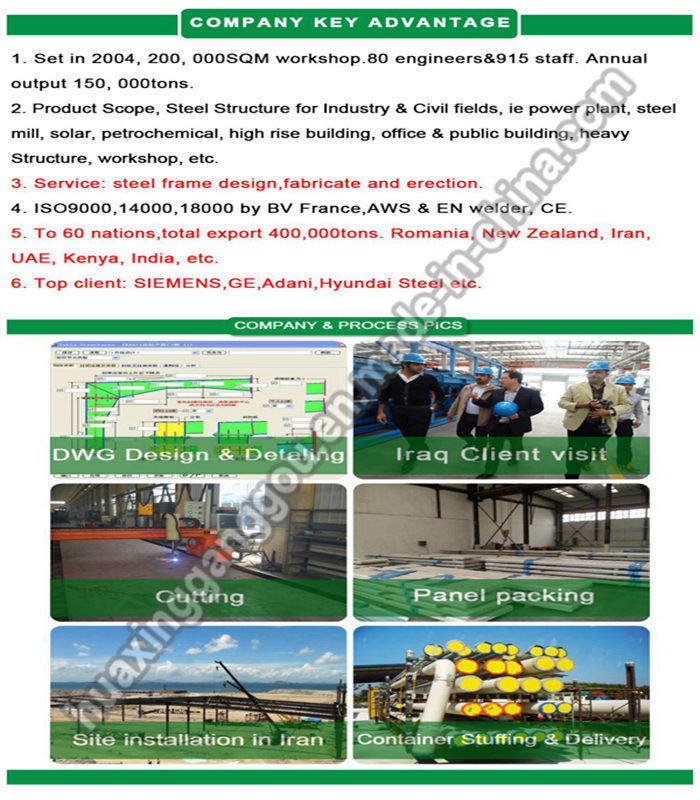 3. Project case- Argentina Steel Structure workshop Building:

We are the largest steel structure building materials supplier and manufacturer in Shandong, China.

This steel structure building used for workshop built in 2010 year for our Argentina Customer.

Project Conditions:

1) Size: 5930M2

Main workshop area 80m long* 60m wide* 9m Eaves height( ridge height 10m)

Affiliated workshop area: 1130 square meter.

2) Wall & roof material: V-960 light steel sandwich panel

3) Thermal Insulation: 50mm EPS foam, 12kg/ m3

4) Wind load: 0.79kn/ M2

5) Crane: 8 cranes( lifting capacity: 2 ton)

6) Windows and doors: electrical rolling window&doors, aluminium alloy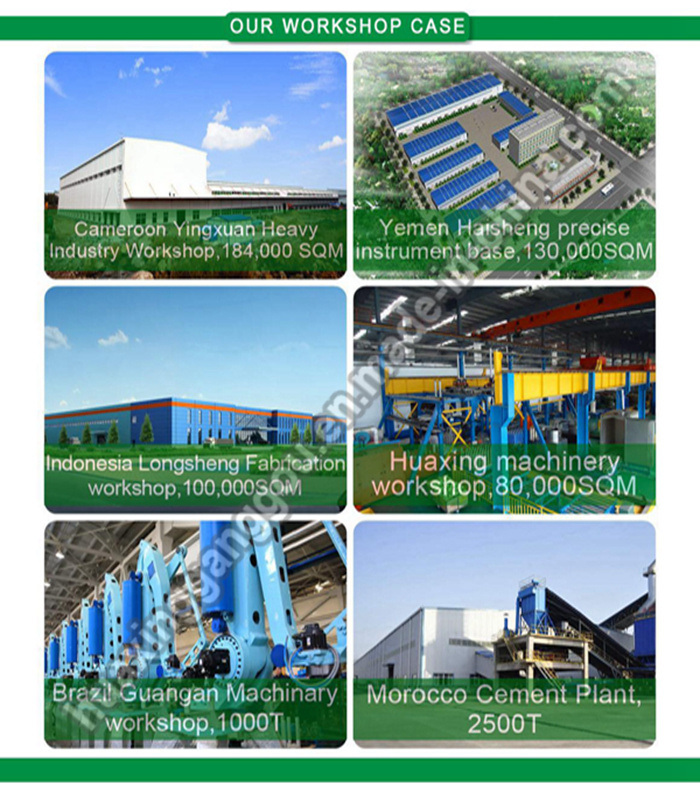 4. What you can get from us for your demanded warehouse kits ( made of steel frame ) :

1) Steel structure special designing and processing

2) EPS sandwich panel( for wall, roof, floor)

3) All construction & decoration materials &downpipe are strictly selected.

4) Designing & Installation drawings( in details)

5) Full support in installation technology & guidance

6) Engineers' guidance on-site in your place is available

7) Custom-made service is available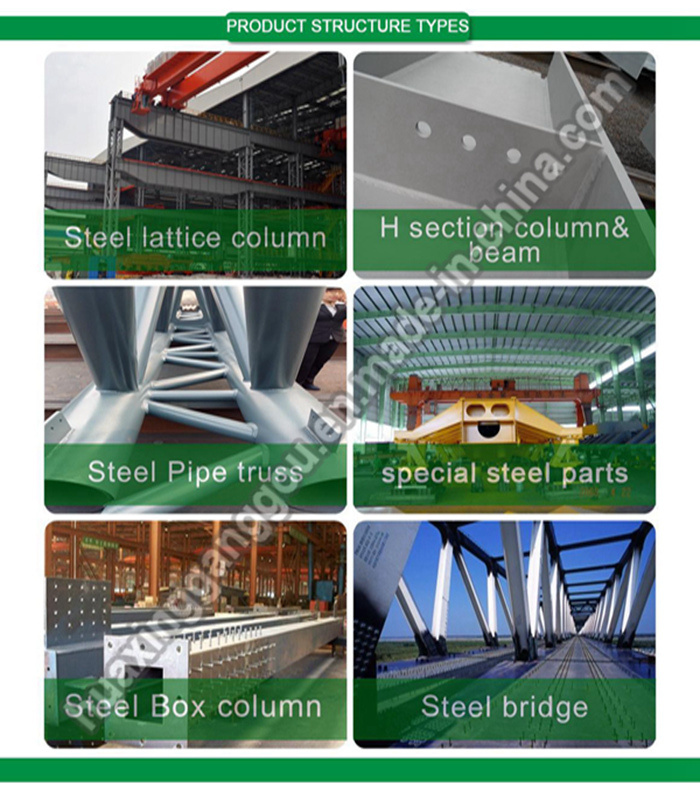 5. Packing and Shipping for warehouse kits ( made of steel frame ) :

Packing Details:

1) For big single steel parts, no need to pack, just protect the end plate with blanket.

2) Main commonly frame: We possess the unique most professional and best packaging solution in China presently - framing package, which perfectly protects the structural steel members from any impact damage during the transport. Or according to customer' s requirement.

3) The cladding part: roof or wall single steel plate whose surface covered by transparent PVC, is wrapped by plastic film.

roof or wall sandwich panel without packing, will load into the container piece by piece, and then fixed firmly.

Shipping:

1) Main big frame will be shipped in bulk carrier

2) Other material load into 20ft( HQ) or / and 40ft( HQ) Â Â 

3) Cladding part: As our experience, 20ft closed container can be load around 450-500 square meters sandwich panel, but depends on the container is flat enough and the length of the panels. 40ft closed container can load around 900-1000 square meters in the same situations.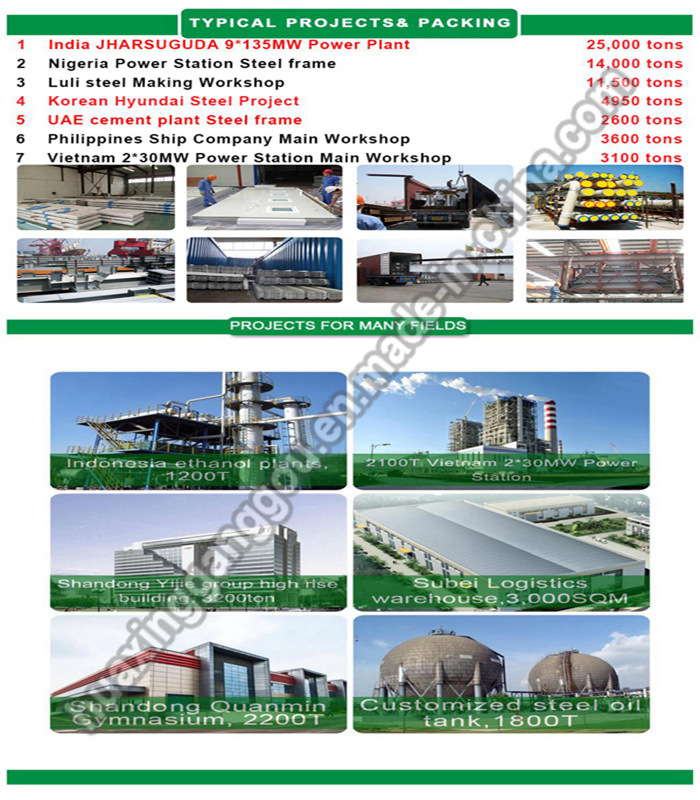 6. FAQ:

1) Price Term: FOB, CFR or CIF.

Shipping seaport: Qingdao Seaport. For FOB, CFR or CIF price, please specify which exact model steel building you need, and tell us your design data so that we can calculate the steel building cost, local transport charges and sea freight.

2) Payment: Typically 30% by T/ T as deposit, balance by T/ T before shipment. Other payment way can be negotiated.

3) Delivery: for 10000 SQM steel warehouse, goods can be ready for shipment about 1-2 months after receiving deposit.

4) How can I get a price for your warehouse kits ( made of steel frame ) ?

Please send us your drawing; we can according to your drawing give you one price.

Or, give us your design data, we will design and quote to you.

 

Company advantage: 1. We supply for Hyundai, SEPCOIII, Siemens etc. Exported to more than 60 countries, with more than 200, 000 tons.2. Biggest steel structure manufacturer in northern China, annual output 200, 000 tons.Registered capital: USD 16million120 engineers and 1260 staff in total.3. ISO9000, ISO14000, ISO18000American certificate system of CWI, AWS welderEuropean certificate system of EN-1090, EN welder4. Our group is Canada listed company, total asset 4 billion, 3600 employees.

 
Performance is a hard truth
SN
Project Name 
Tons or Area
1
Steel structure for India JHARSUGUDA 9*135MW Power Plant
25,000Â tons
2
First-stage project of India JHARSUGUDA 6*600MW Power Plant
24,000Â tons
3
Steel structure for India BALCO 4*300MW Coal-firing Power Station
16,000Â tons
4
Major workshop& ECR of 3*660MW, CLP Power Station, India
5500Â tons
5
Steel structure for Nigeria Power Station Project
4000 tons 
6
Steel structure for  Vietnam  2*30MW Power Station Workshop
2100 tons 
7
Steel structure for  Indonesia  TANJUNGENIM 3*12MW Power Plant
1200Â tons
8
India WPCL4*135 Coal-firing Power Station
3000tons 
9
Luli Group steel Making Workshop
11500Â tons
10
Shoudu Iron and Steel company project, 2006
4100Â tons
11
Steel Structure of Qingdao Laigang  Mansion , 33 floors, Heavy H Beam and Tubular Pillar
3600tons 
12
South Korean Hyundai Steel Project
2950 tons 
13
Steel Structure for Saudi Arabia HCP2*10000T/D cement plant
1600Â tons
Heat shrinkable cable Markers sleeve made by EVA materials, Heat shrink markers tube have the heat shrink effect.

N style cable markers made by POM materials, N-type cable identification sleeve It's a Snap-on Marker sleeve.

M style cable markers made by POM materials, M-type cable indentification tube it's a snap-on marker tube.

EC -cable marker tube, EC Type cable marker made of PVC materials.




























Heat shrink marker sleeve,N style marker sleeve,M style marker,cable Identification sleeve,cable marker tube,EC markers sleeve,pvc markers sleeve

KEYUACE Materials Co., Ltd. , https://www.insulationtubing.com