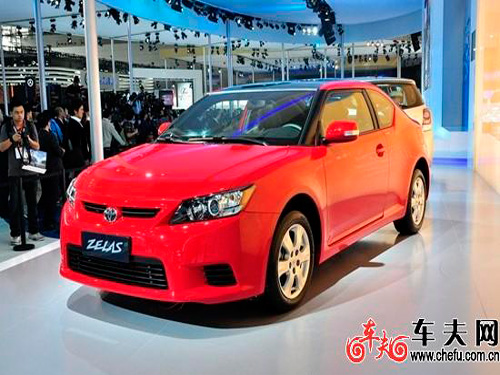 Recently, GAC Toyota insiders said that Toyota Zelas, who had appeared at the Guangzhou Auto Show last year, was confirmed to be listed in April. Toyota Zelas's Chinese name is "Zeras" and will introduce 2.5 STD and 2.5 LUX models, priced at 256,800 yuan and 288,800 yuan respectively.

In response, the GAC Toyota said that Zelas's Chinese name and price have not yet been finalized.
In fact, the original model of the Zelas was the Toyota sub-brand Scion's two-door TC, but after it entered the country, it took into account domestic consumers' awareness of the Scion brand and replaced it with the Toyota Bulletin. Appearance, although the car is located in the coupe, but its overall design is somewhat deviated from its own positioning, can not be a simple square smoked headlights and inverted trapezoidal long grid to form a straight arc, and full of The front bumper uses multiple air intake designs to complement its dynamic styling. Overall, ZELAS's front face feels more honest and is not violent.
Beginning with the B-pillar, Zelas's personality is very intense. The straight roof line and waistline are characteristic, and the box-like shape conveys a cool temperament. The shape of the C-pillar is full of personality, and this design is derived from a concept car that SCION once published: FUSE. The essence of the concept of this concept car actually derived from its most representative model xB. The square shape is not only to create a very practical interior space, but also gives a different kind of sense of freshness and design in appearance.
The design of the rear end is more colorful than the front face. It is simple but not simple. The slightly upturned tailgate naturally forms a small "tail", and the irregular lines of the two-color taillights combine with U-shaped rear bumpers to make it sporty. The hatchback design also brings more space practicality and personalization to Zelas. This is actually because the North American market is just as easy to accept as the Chinese market. Hatchbacks are not easily accepted. They also like multiple tailgates, or are two-wheeled version of the car. In addition, the car will be available in black, silver, red, gray, blue and white colors for consumers to choose from.
If you think that Toyota ZELAS doesn't make you want to drive it, then editors recommend that you go into its car, maybe you can find some feelings. Reflecting the all-black color of the sports elements, with the help of some chrome-plated materials, it makes the interior sports full of flavor, while the three-spoke sports steering wheel and the excellent shift lever can make you full of driving desire. Of course, the application of the barrel-type instrument panel also reminds you from time to time, "I can drive faster." In terms of configuration, Toyota Zelas comes standard with 8 airbags, and has ABS + EBD, BA brake assist, traction control system and VSC vehicle dynamic stability control system.
Powerfully, the Toyota ZELAS is equipped with a 2.5-liter four-cylinder dual VVT-i engine. The engine is equipped with 182 horsepower and 235 Nm of peak torque on the Scion TC. Transmission, matching 6-speed tiptronic transmission. Whether it is automatic or manual, it is a 6-speed gearbox. In such a sporty car, such a power transmission system appears to be very reasonable, and the power is so much higher than needed. This is safe and fun. The 6-speed gearbox can also achieve better results in acceleration and fuel economy performance.

Fat-Reducing And Weight-Reducing Pharmaceutical Intermediates

Cas 541 15 1,Lose Weight Drug,Carboxymethyl Chitosan,Lose Fat And Lose Weight

Mingya Trading PTE.L , https://www.mingyachem.com